Featured Experts Wanted for Food Loss, Waste & Hunger Special Edition Book!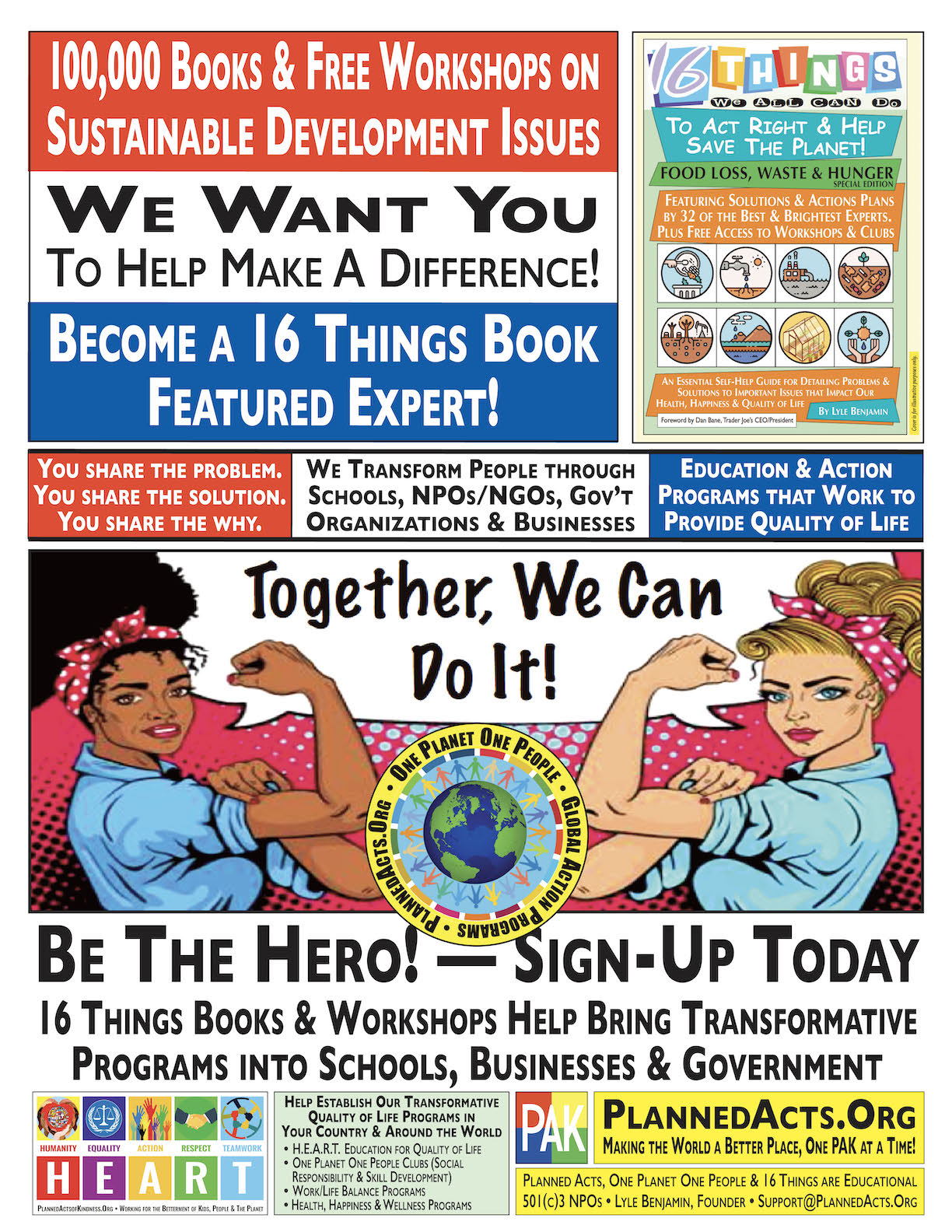 Proposed Book Cover: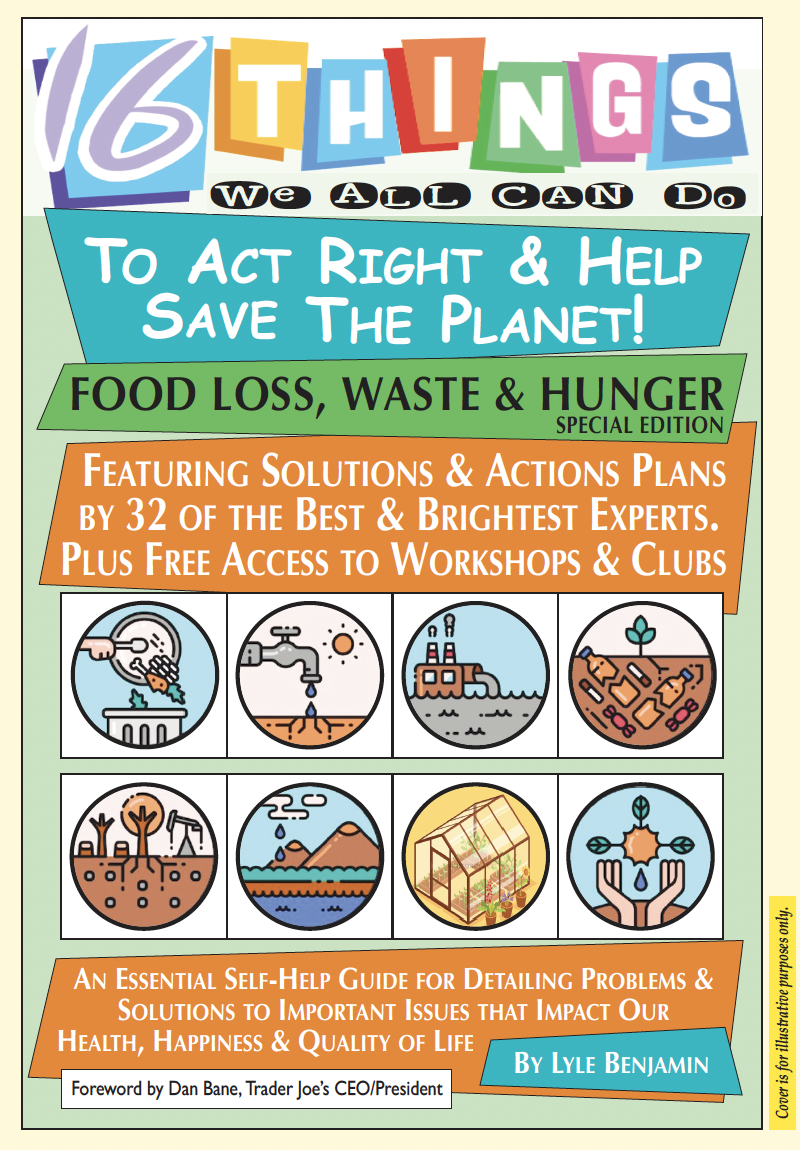 Sponsorship Sheet: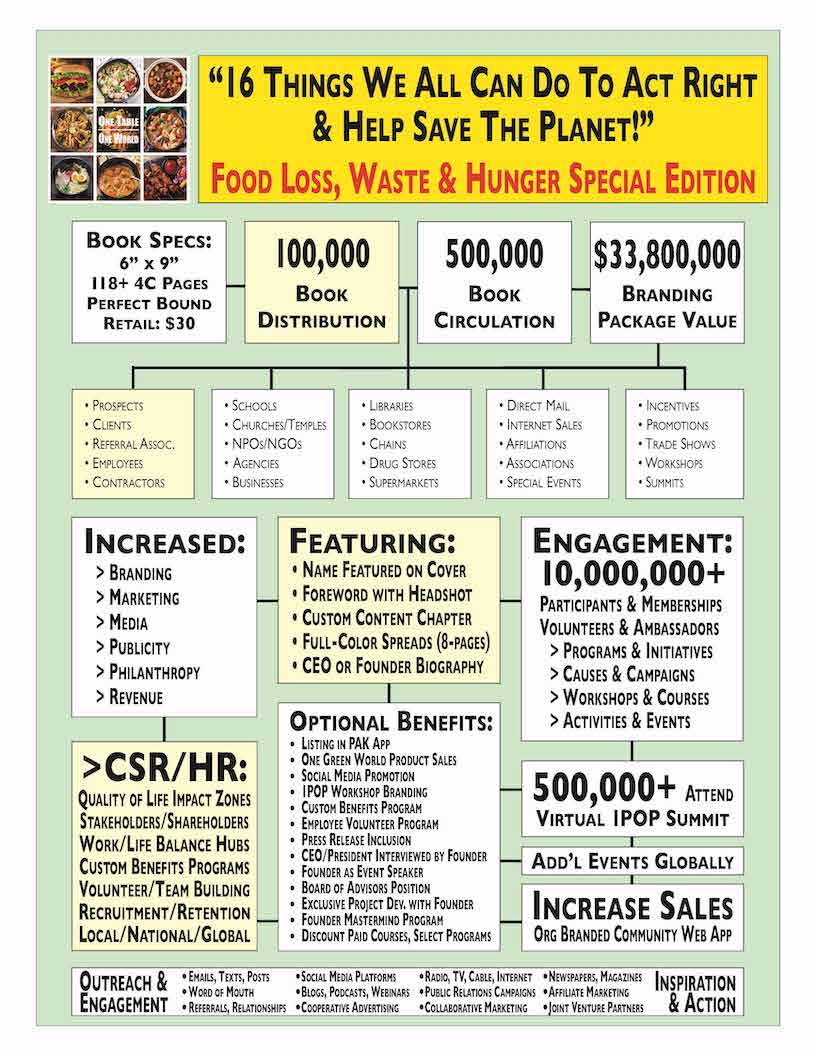 Book Sell Sheet: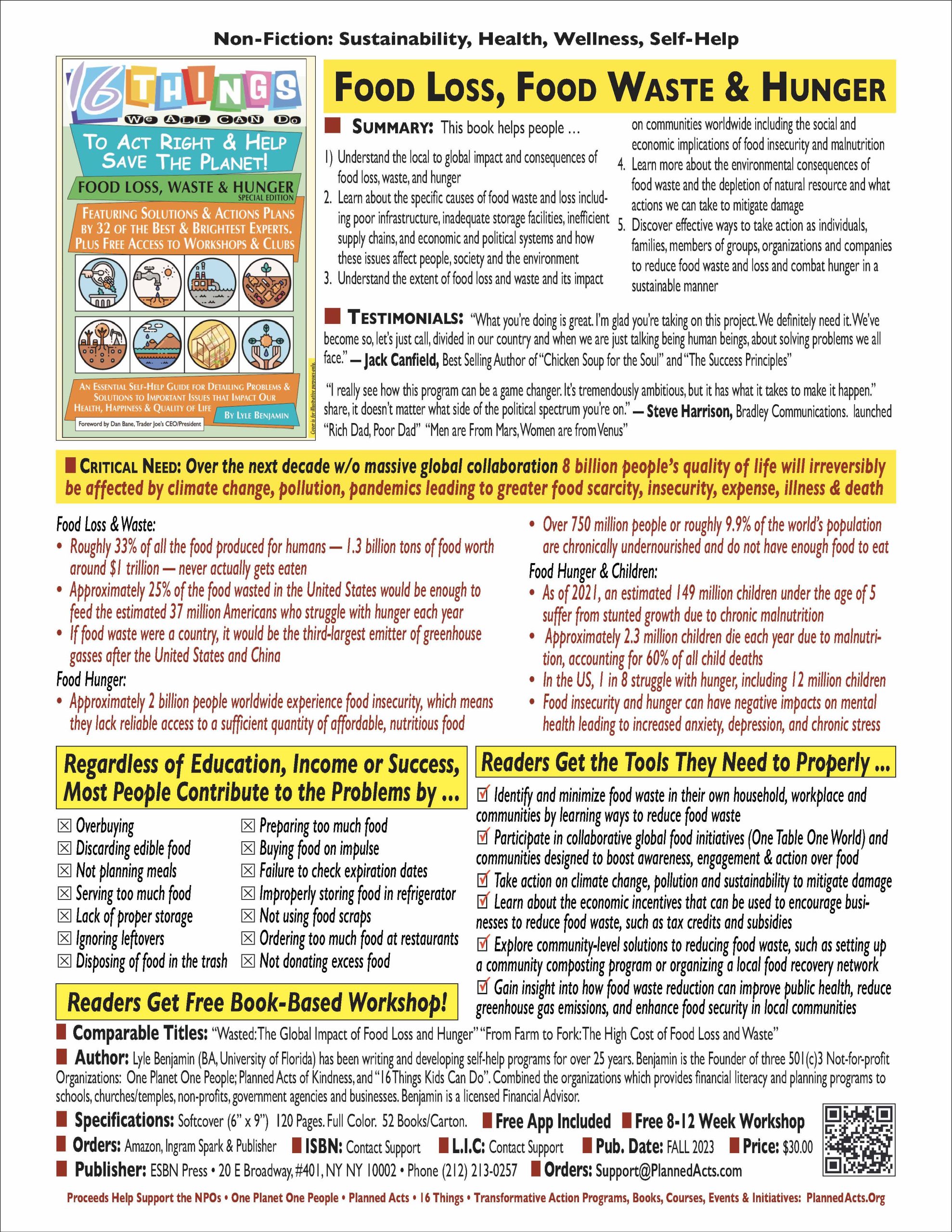 My Featured Expert Benefits:
As a Featured Expert in our book these are just some of the benefits you can receive:
Wonderful opportunity for you to demonstrate your commitment to Social Responsibility, positively transforming the lives of millions, and improving the legacies of our children
Increased Bookings at Featured Expert's Restaurant
Increased Sales of Featured Expert's Own Book
Increased Media & Social Media Engagement
Interviews with Broadcast/Cable News, Talk Shows, Radio, Podcasts, Magazines, Newspapers & Blogs
Opportunity to Host a Media/Book Signing Event at your Restaurant, in conjunction with Sponsor, Partner, etc.
Group/Team/Organizational Book Signing Events (@Schools, Sports Teams, Faith-Based, NPOs, Businesses, Gov't Agencies)
Press Releases
Video Testimonial Engagement
We'll show your support on our NPO's Websites & Apps
Publishing and Promoting the "Food Loss, Waste & Hunger" Special Edition Book of "16 Things We Can Do To Act Right & Help Save The Planet!"
Promoting you as a Featured Expert to youth and adults through "One Planet One People" Book-Based Workshops at schools, faith based organizations, non-profits, government agencies and businesses
Establishment of a $5,000 scholarship in Featured Expert's name to give books and materials to 500 disadvantaged youth to attend 8-12 week "One Planet One People" Workshops
Providing Featured Expert with promotional materials including social media graphics, press release, website and app materials
Opportunity to market as a Featured Expert at 16Things events including summits, conferences, book signings, etc
Opportunity to obtain books containing their Featured Expert information at wholesale rates
The Importance of "Why":
The world is in crisis and this decade will determine the quality of life for over eight billion people. Any one of these global issues — climate change, pollution, pandemics, poverty, food and water scarcity, health inequalities, mental health issues, and war — has the power to tip the balance for billions.
The time for division is over. We must stop the fractional approach governments, businesses, non-profits, and educational institutions use to solve global issues. We must collaborate to succeed. We must collaborate to survive.
"As an influencer deeply concerned with food loss, food waste and hunger, we invite you to be come a Featured Expert in our book and workshop series and help make a transformative difference for kids, people and the planet." — Lyle Benjamin, Founder
Social Responsibility Entrepreneur Lyle Benjamin has created the Non-Profit Organization, One Planet One People with the mission to serve as the global movement and umbrella organization tasked with fostering the collaborative programs and systems needed to achieve the objectives of the United Nations Sustainable Development Goals and provide Quality of Life for Kids, People, and the Planet.
Over the past decade, focusing on global Quality of Life issues, Benjamin has created 40+ programs and initiatives and written several books — all designed to solve economic, social, environmental and health issues on a local, national, and global scale.
Fundamental to the success of the programs are the groundbreaking action-based systems built on the principles of kindness, civility, equality, education, inclusion, and sustainability that people and institutions can use — based upon their own interests and causes — to "Be the Hero" for kids, people, and the planet.
The Staggering Cost of Doing Nothing:
Food Loss & Waste:
Roughly 33% of all the food produced for humans — 1.3 billion tons of food worth around $1 trillion — never actually gets eaten
The amount of food wasted in developed countries could feed the entire population of sub-Saharan Africa
In the United States, food waste accounts for approximately 21% of municipal solid waste, making it the single largest component of the waste stream
Approximately 25% of the food wasted in the United States would be enough to feed the estimated 37 million Americans who struggle with hunger each year
Food waste is a significant contributor to greenhouse gas emissions, with roughly 8% of global emissions attributed to food loss and waste
If food waste were a country, it would be the third-largest emitter of greenhouse gasses after the United States and China
Food Hunger:
Over 750 million people or roughly 9.9% of the world's population are chronically undernourished and do not have enough food to eat
Approximately 2 billion people worldwide experience food insecurity, which means they lack reliable access to a sufficient quantity of affordable, nutritious food
Food Hunger & Children:
As of 2021, an estimated 149 million children under the age of 5 suffer from stunted growth due to chronic malnutrition
Approximately 2.3 million children die each year due to malnutrition, accounting for 60% of all child deaths
In developing countries, one in six children is underweight, and 25% of all children suffer from stunted growth due to chronic malnutrition
In the United States, 1 in 8 people struggle with hunger, including 12 million children
Malnutrition can affect children's cognitive and physical development, leading to poor academic performance, learning disabilities, and increased risk of chronic diseases later in life
Food insecurity and hunger can have negative impacts on mental health leading to increased anxiety, depression, and chronic stress
Sharing Problems, Consequences & Solutions:
As a Featured Expert in our book, you'll get to identify what you think is a major problem facing humanity as well as what we need to do about it on an individual or institutional level.
Soil degradation and pollution
Pesticide contamination
Water scarcity and poor water management
Land use change and deforestation
Poor agricultural practices and lack of innovation
Food waste and loss along the supply chain
Food waste in the home
Institutional food waste — grocers, restaurants, hotels, schools, retailers, governments, etc.
Lack of access to markets and infrastructure
High food prices and inflation
Conflict and political instability
Poverty and income inequality
Natural disasters and emergencies
Lack of education and knowledge about nutrition and food preparation
Food safety issues and foodborne illnesses
Lack of access to credit and financing for farmers
Market distortions and price volatility
Limited crop diversity and monoculture farming
Lack of investment in agricultural research and development
Limited access to technology and innovation
Gender inequality and lack of women's empowerment
Weak governance and corruption
Limited access to healthcare and nutrition services
Urbanization and urban food insecurity
Loss of biodiversity and ecosystem degradation
Food marketing and advertising of unhealthy foods and beverages
Food deserts where access to healthy, affordable food can be limited
Food swamps have an abundance of unhealthy food options
Globalization and trade policies that lead to the displacement of small farmers and exacerbate food insecurity in developing countries
Food aid and food assistance programs that unintentionally undermine local food systems and contribute to a dependence on aid
Food packaging and single-use plastics contribute to food waste and environmental degradation and can impact food security
Inequitable food systems characterized by power imbalances and inequities, which can lead to unequal access to resources and opportunities for small farmers and marginalized communities
Simple Steps to Success:
As a Featured Expert in our book, there are three Simple Steps you need to take to get Started: 
Complete & Submit Your Featured Expert Profile Form 
Be sure to include your Professional Headshot
Schedule & Complete your 30-minute online Zoom interview
It's that simple!