Over the past decade, we have developed over 40 programs, books, courses, workshops, events, and initiatives designed to engage and inspire people of every race, religion, nationality, age, gender, experience, education, or income.
We can no longer afford to do business, education, or government the same way as in the past — the problems of the world are simply too large and too dangerous. We must stop the fractional approach we have always used and collaborate to succeed or possibly even survive.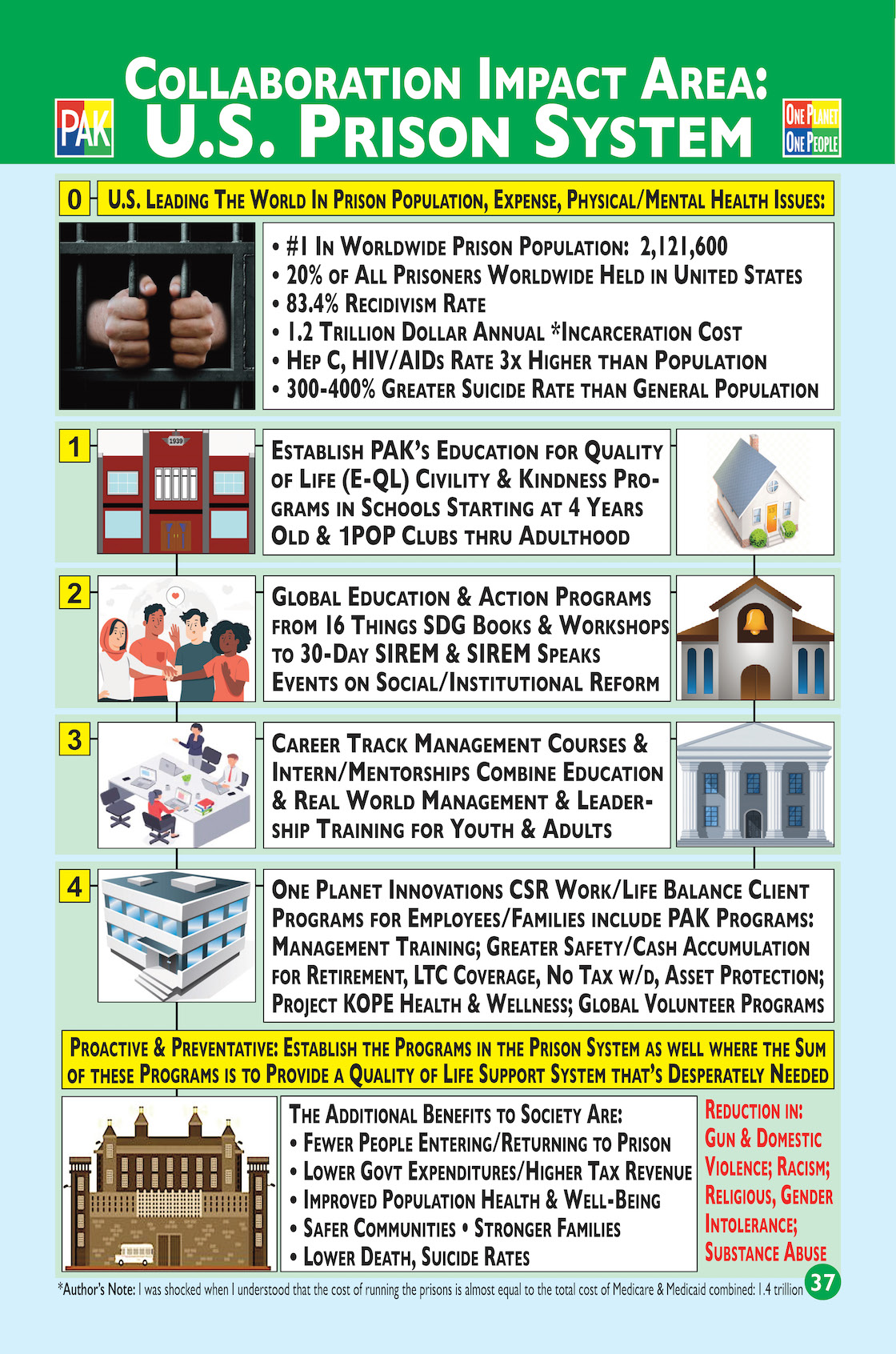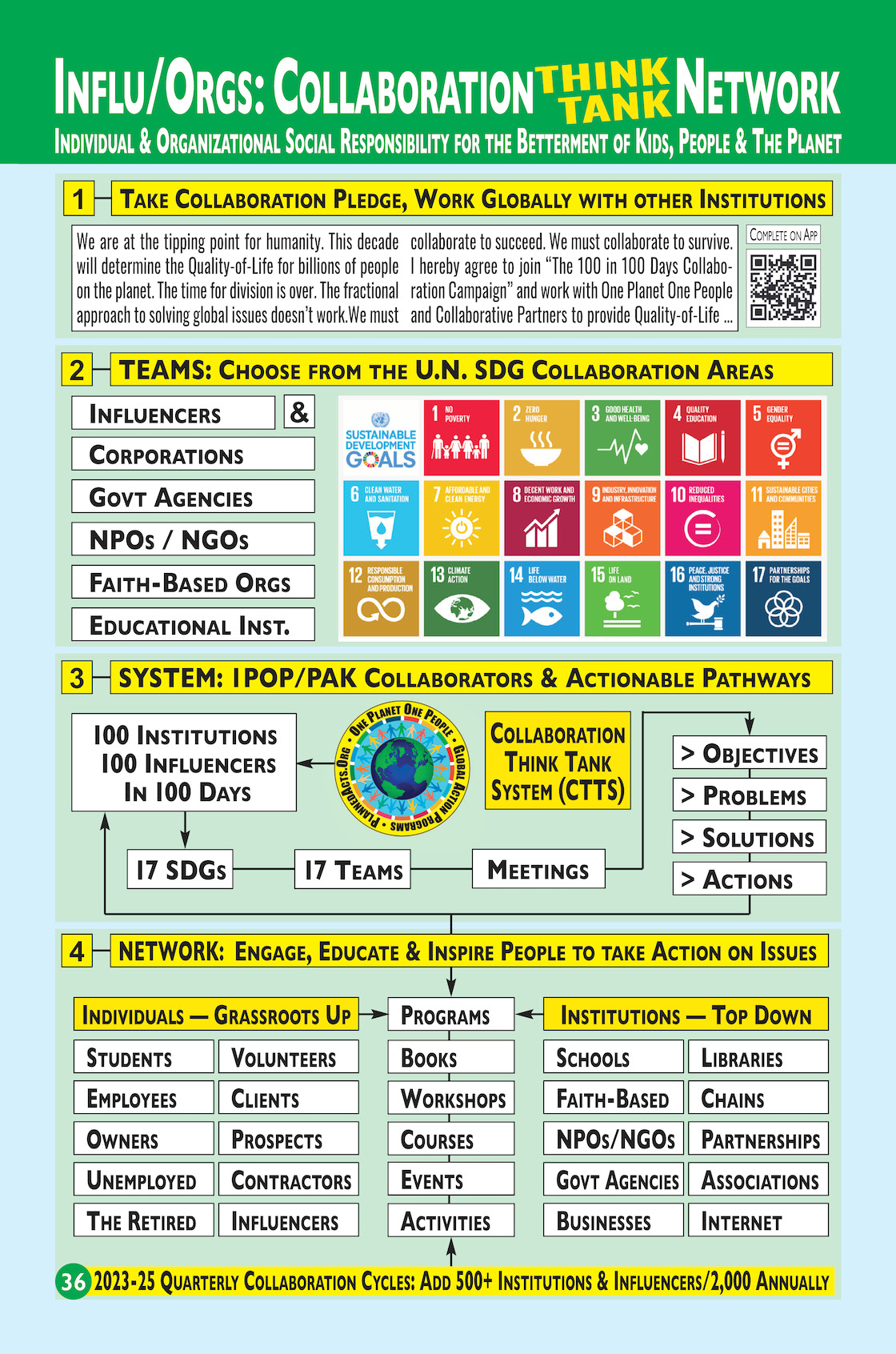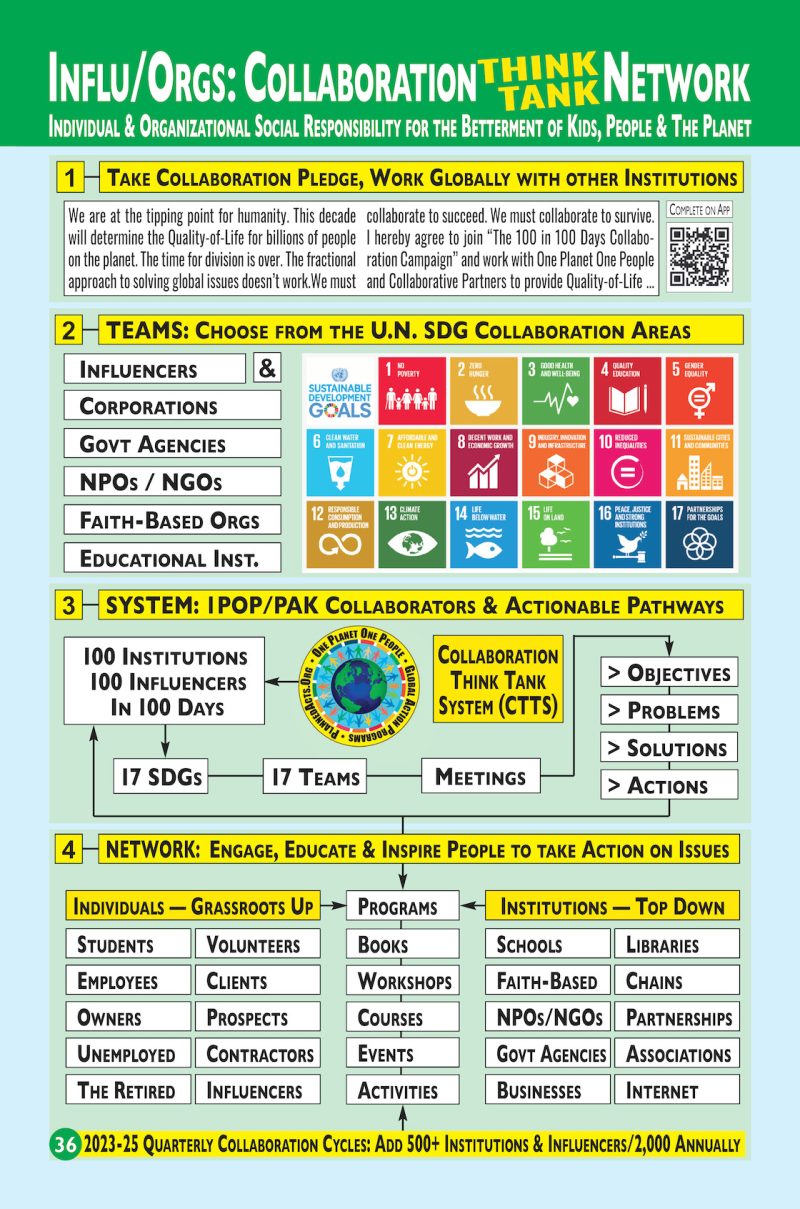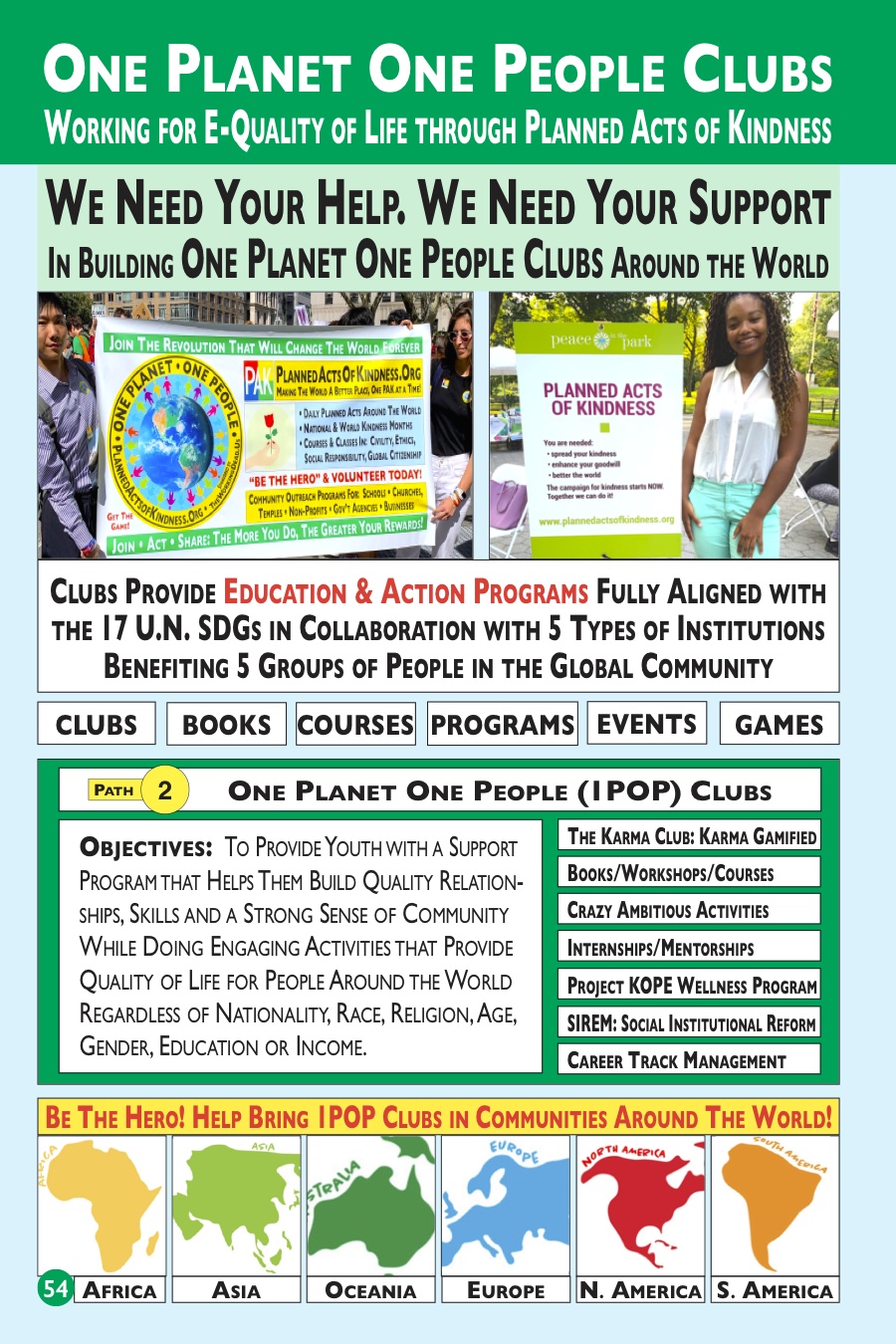 CSR Programs & Initiatives that Connect & Produce Action:
Education & Action Books That Engage & Inspire Behavioral Transformation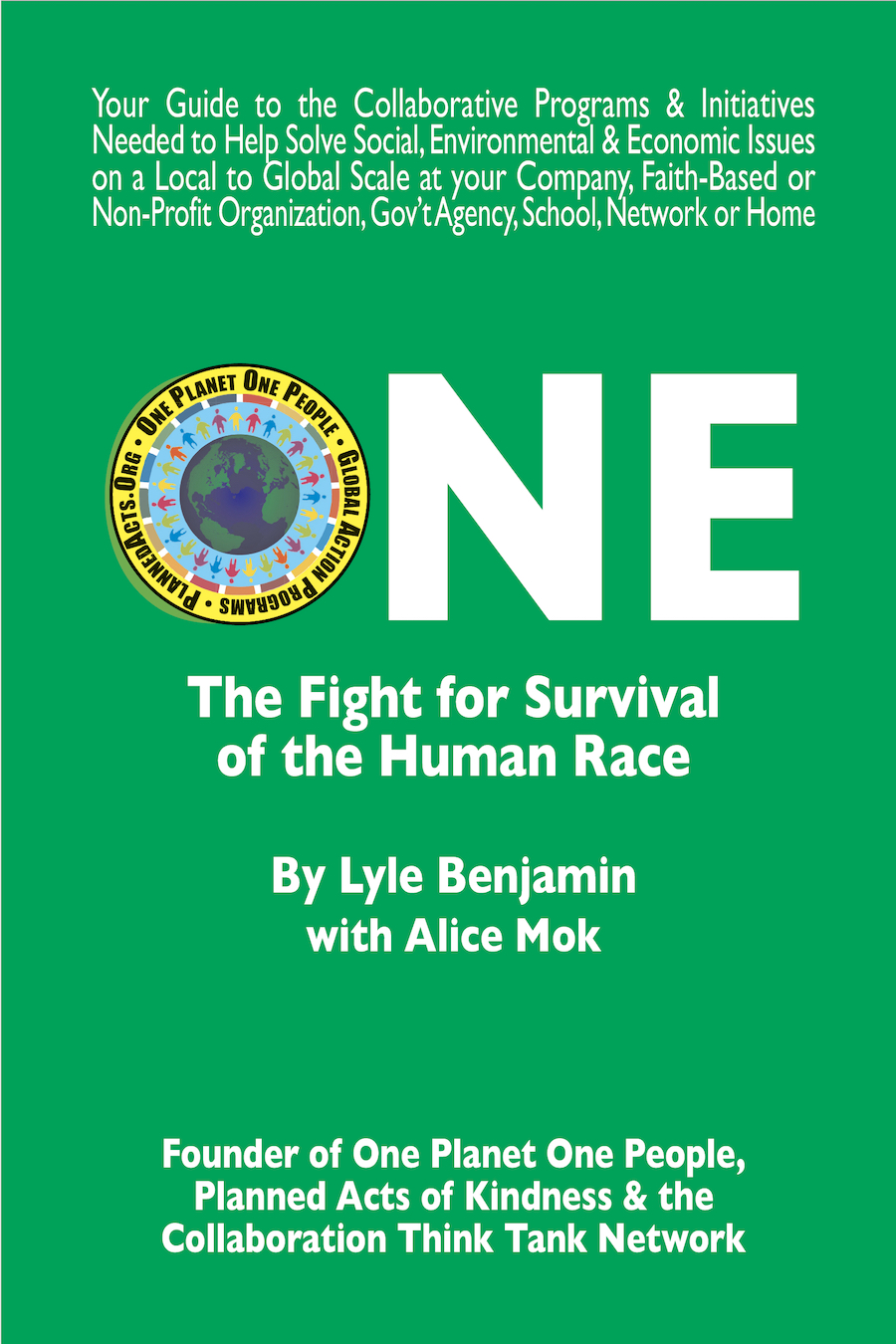 ONE: The Fight for Survival of the Human Race
 Your Guide to the Collaborative Programs & Initiatives
Needed to Help Solve Social, Environmental & Economic Issues
on a Local to Global Scale at your Company, Faith-Based
Non-Profit Organization, Gov't Agency, School, Network or Home
RE: Social Responsibility. The ONE book helps people & organizations … 
1) understand why we are failing to solve local, national, and global issues on an individual and institutional level
2) learn how we — as individuals and members of organizations — can work together on achieving the United Nations 17 SDGs(Sustainable Development Goals)
3) use kindness and action to positively impact issues from mental health to numbers of people in the prison system
4) discover ways they can push back against the six major tipping points that will affect quality of life for billions of people on the planet over the next few years
5) identify groundbreaking, innovative programs and initiatives that work to solve real-world problems for everyone regardless of nationality, race, religion, age, gender, education, or income
6) bring quality of life programs and initiatives directly to the attention of institutions including schools, faith-based, non-profits, government agencies and businesses
The Working Dead
The Essential Money Management Book for Yourself, Your Family & Your Future
The Working Dead helps people:
1) understand why this country is in a financial crisis and how Wall Street, Banks, Companies, Universities, and the Government profit from it
2) learn important financial concepts that are not being taught on any educational level even if you majored in finance, economics, or business
3) analyze where they are financially
4) set their personal and financial goals & dare to dream again
5) with proven programs that give them the foundation to become financially independent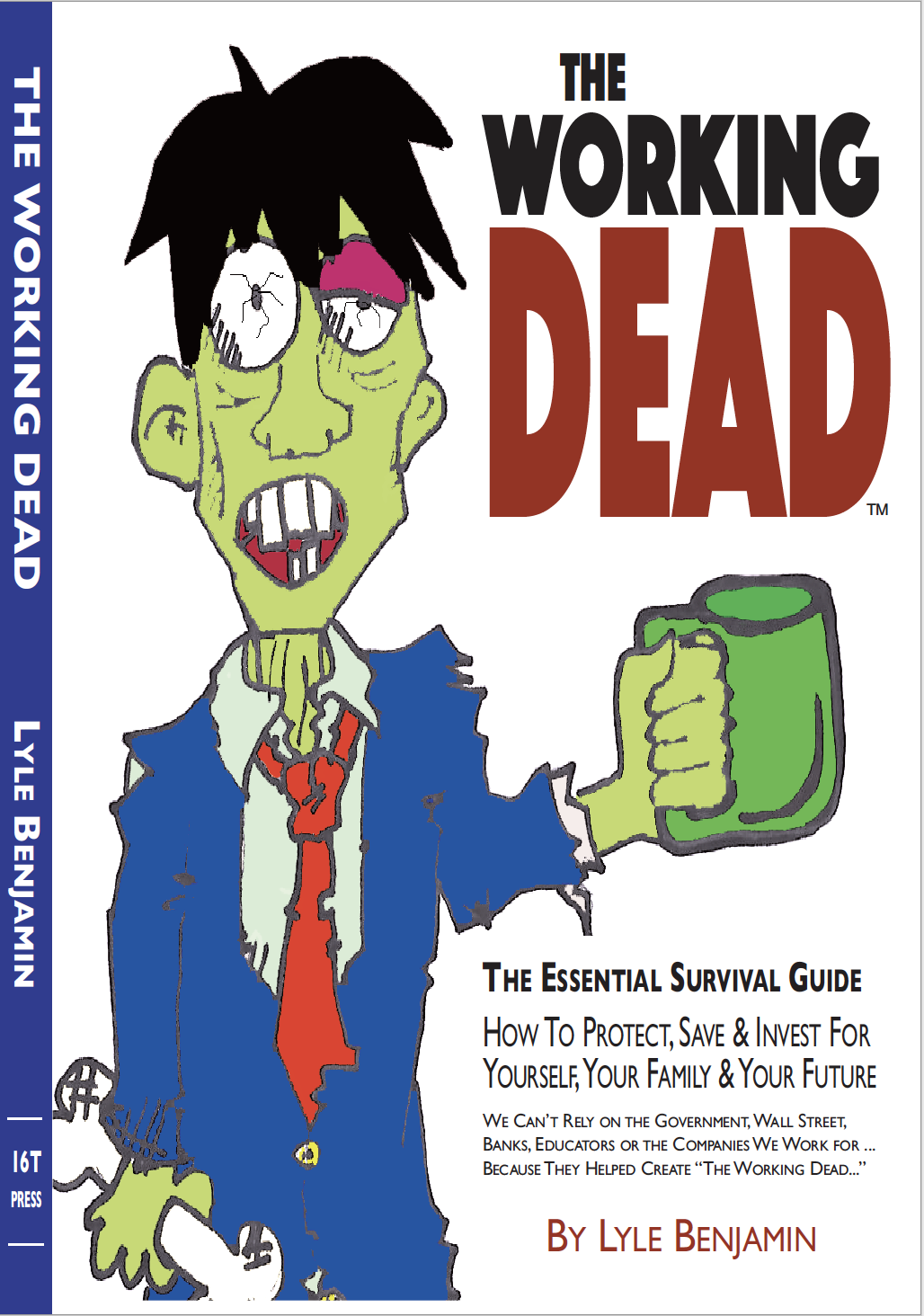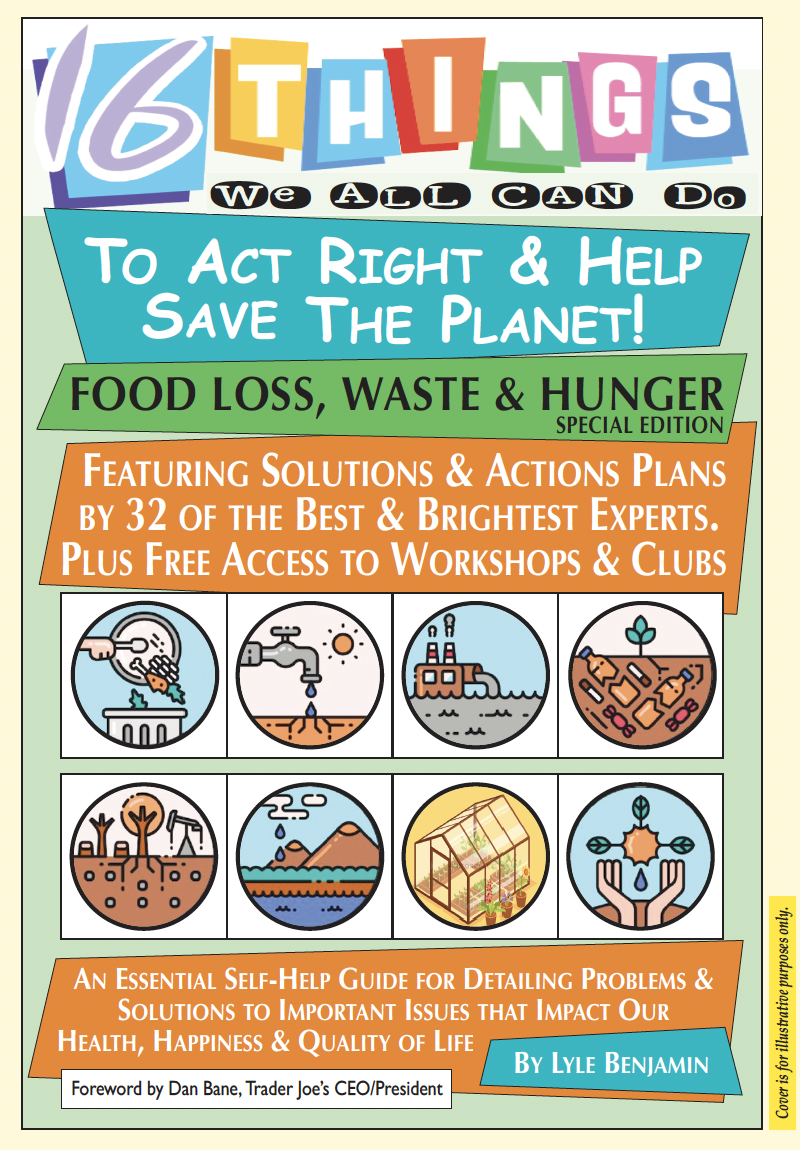 16 Things We All Can Do To Act Right & Help Save The Planet!
*Mental Health Special Edition
Featuring Solutions & Actions Plans by 32 of the Best & Brightest Experts
Plus Free Access to One Planet One People Book-Based Workshops & Clubs
This 16 Things Mental Health book helps people:  
1) Understand the global perspective on mental health 
2) Understand the behaviors that fall under mental health problems
3) Recognize and identify red flag behaviors that can lead to more serious consequences
4) Understand what we can do to help address problems before they escalate and tip
5)  Understand why it's important to take action on these issues
Please Note:
*16 Things books can be produced on any SDG subject including Mental Health, Sustainability, Pollution, Green Energy, Kindness & Civility, Abuse, Gender Tolerance, Autism, Food Loss Waste & Hunger, Personal Finance, Greek Life, Education, Equality, Etc.
Each book features 16 problems and solutions addressed by two experts per issue who share what we must do to solve the problem and why we must take action.
Experts can come from one or multiple disciplines, or if appropriate, can be from a targeted group, i.e., celebrities, athletes, business leaders, scientists, influencers, government officials, coaches, etc. 
Legacy Lifelines Memorial Book
Creating a Keepsake to Keep the Joy & Happiness of a Lost Loved One Alive for You, Your Family & Future Generations
The Legacy Lifelines Memorial book helps:  
1) Bring Your Loved Ones' Life to Light 
2) Helps Heal from Loss         
3) Forge Stronger Connections
4) Create Joy & Happiness 
5) Keeps Loved One Alive in Hearts & Minds
6) Helps Build Generational Bonds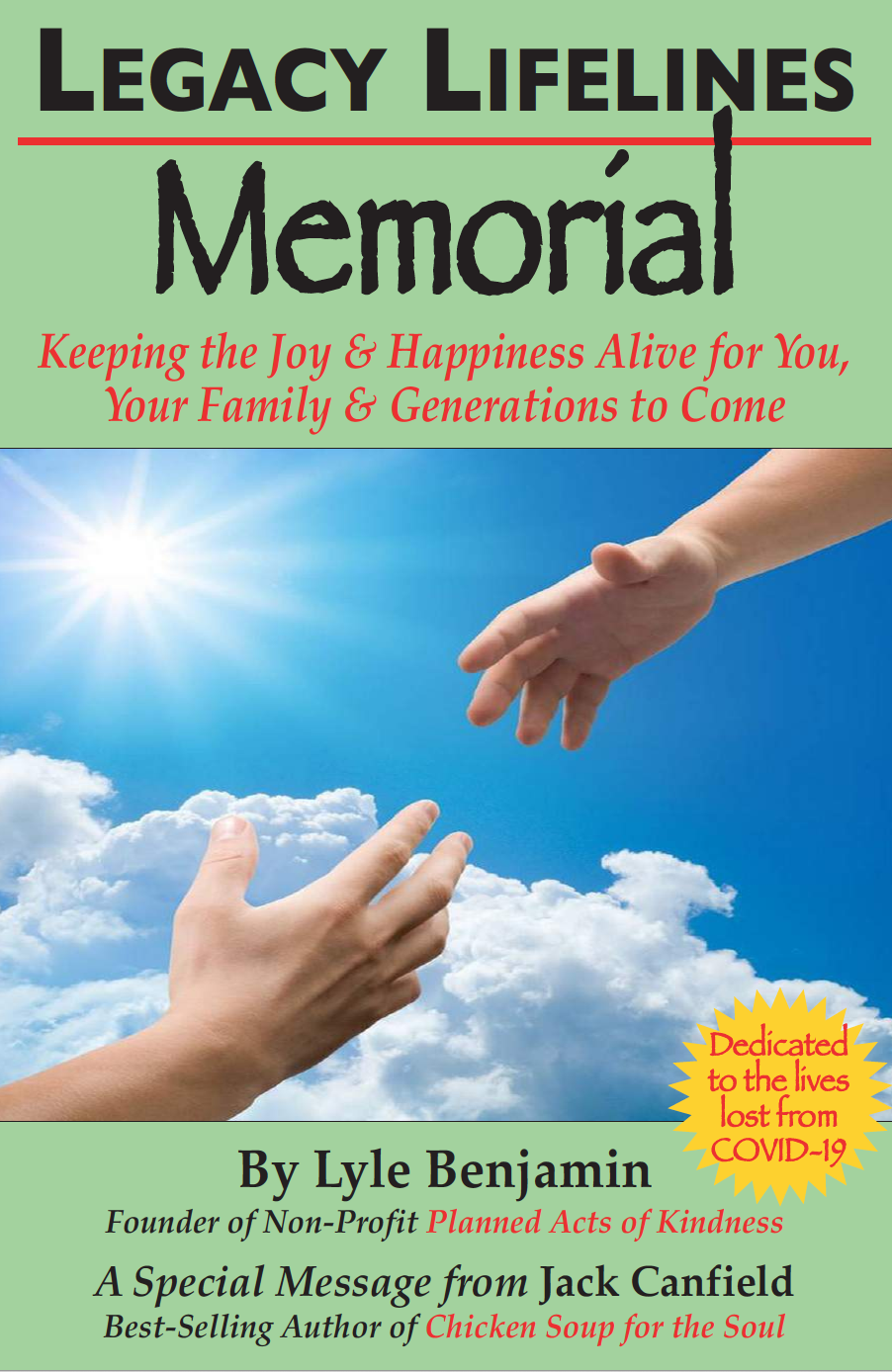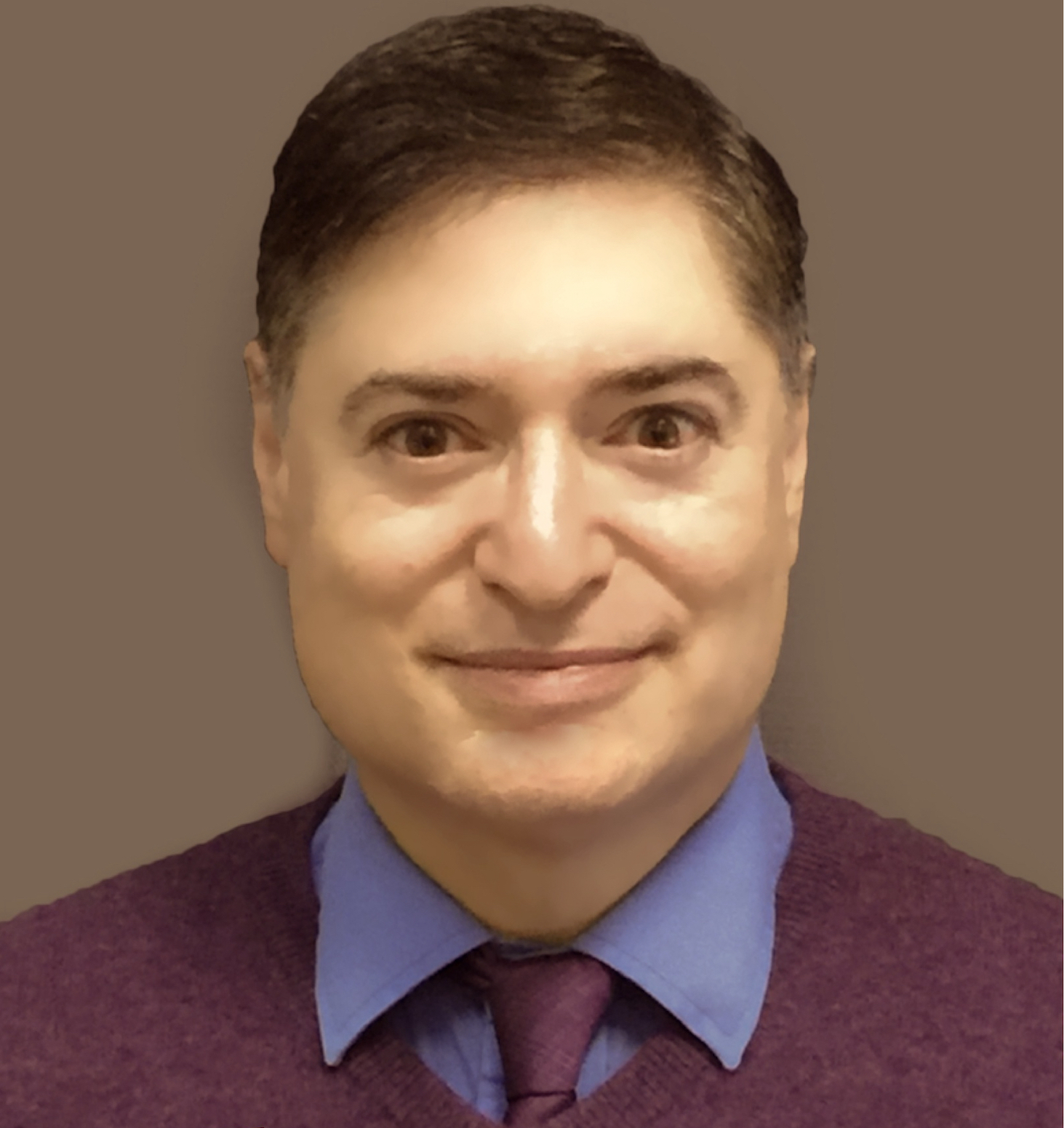 Instruction & Guidance from the Source — Author & Educator, Lyle Benjamin
Social Responsibility Entrepreneur: Lyle Benjamin (BA, University of Florida) has been creating and developing self-help books, magazines, games, programs, and systems for over 35 years. Benjamin is the Founder of the 501(c)3 Not-For-Profit Educational Organizations, Planned Acts of Kindness & One Planet One People and has created over 40 Work/Life Balance CSR programs & initiatives for businesses, non-profit organizations, schools, and government. Benjamin is a licensed Financial Advisor & author of "The Working Dead: The Essential Guide on How to Protect, Save & Invest for Yourself, Your Family & Your Future.
6 Weeks Live Training Weekly (2 Hours/Weekly)

 

Live Program Integration Class (1 Hour/Weekly)

 

Homework (1 Hour/Weekly)
Project Management & Leadership
Team Building, Recognition
Live Integration:
Team Building (Volunteer Recruiting & Retainment)
Project Management (On-Boarding & Retainment)
Homework
Surveys
Bonuses:
Certifications Awarded
Course Completion Pizza Party
Team Building Recognition & Rewards
Effective Corporate Social Responsibility Implementation
NPO Tie-Ins
Positive Public Relations for Company
The Schedule:
Six Weeks: Two Sessions Weekly
Tuesday: Training: 1-3 PM EDT
Friday: Reporting & Q&A: 12-1 PM EDT
Logistics:
Reference Book: "ONE: The Fight for Survival of the Human Race"
Reference Book: "The Working Dead"
Surveys
Checklists
PowerPoint/PDF Material
Rewards
Certification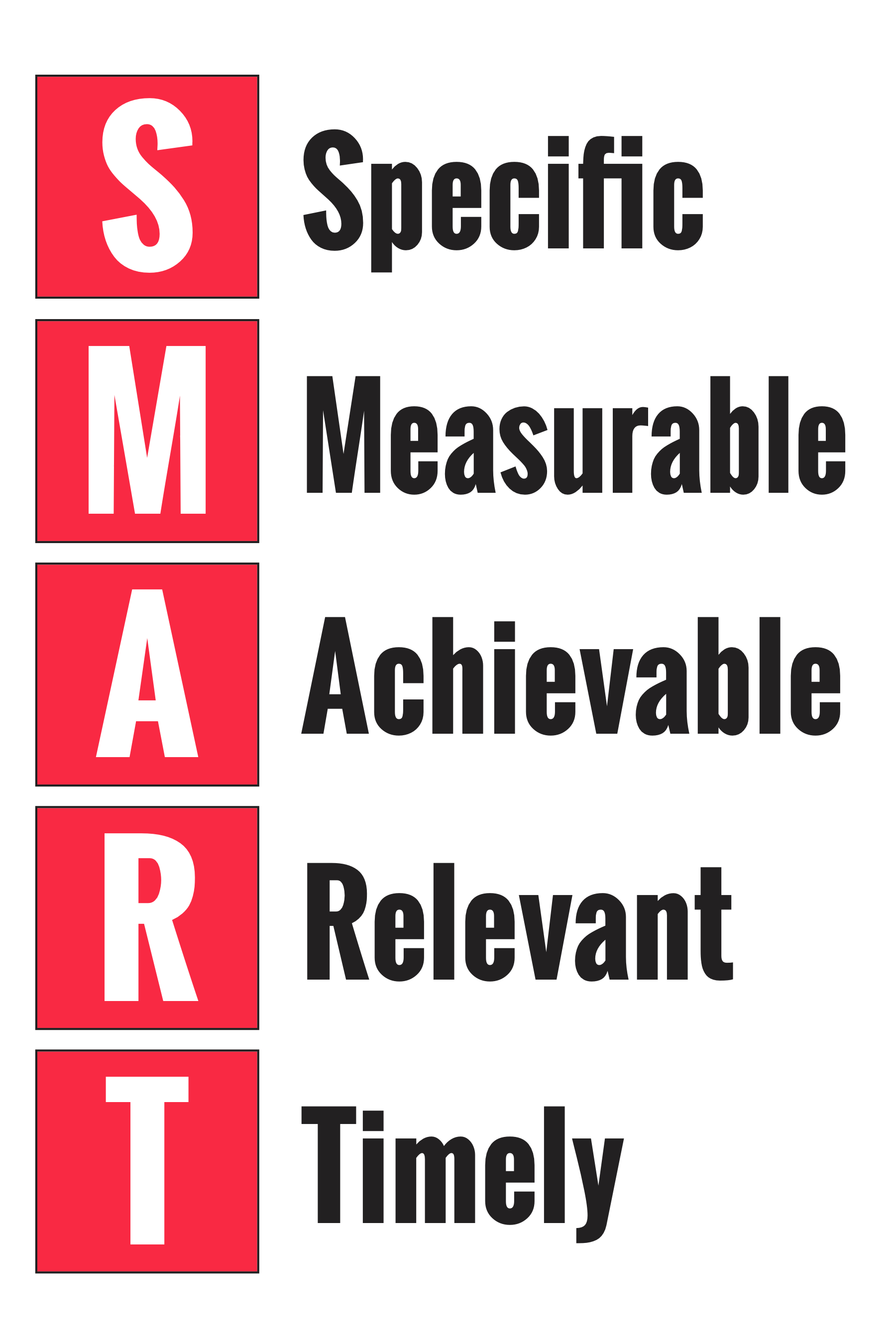 Learning Objectives:
By participating in the Work/Life Balance Collaborative Course, you will Learn the Systems you need to Properly:
• Improve Company Culture 
• Optimize HR Recruitment & Retainment
• Lower Costs & Exceed HR & CSR Goals
• Enact Employee & Family Benefits Programs
• Institute Organizational Team Building
• Expand Management & Leadership Roles
• Implement Sustainability Initiatives
• Enhance Branding, Marketing & Public Relations
• Exceed Shareholder & Stakeholder Objectives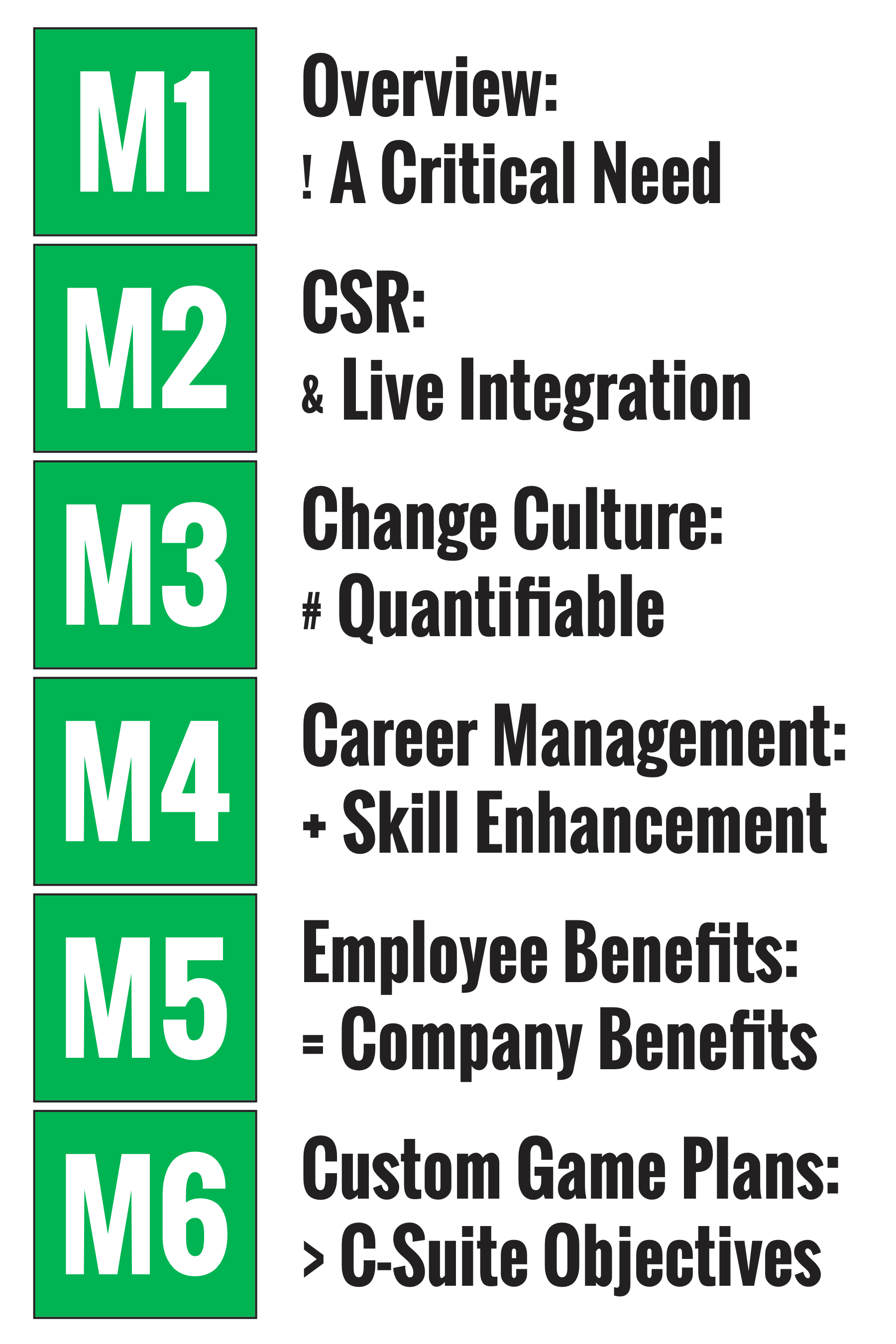 Books & Materials: ONE & The Working Dead                           $      99.

6-Week Work/Life Balance Collaborative Course:                    $  6,800.

50% Early Adaptor Discount:                                                        $ -3,400.

Course Fee:                                                                                         $  3,400.

Additional Team Members (includes B&M fee):                        $  2,500.

Group & Enterprise Rates:                                                        Contact Support
Option 1: W/LBC Course with Management & Leadership Integration $+2,900.
(2 additional hours per week for 6 weeks)

The ONE Book
The Working Dead
Legacy Lifelines Memorial Book
16 Things We All Can Do To Act Right & Help Save The Planet

Option 2: Custom Cause-Driven Company Book Production (includes 5 books):

All books include: 8-Page Full Color Spread, CEO on Cover,
CEO Foreword, Chapter on Company, CEO Biography, Lead Name
& Individual Team Members in Acknowledgement Page

Make Book Selection:

Option 2A:  Custom Cause-Driven Company Book: (18-20 Week Delivery) $34,800.
(1 additional hour per week for 22 weeks)

Option 2B:  Cause-Driven Custom Company Book (8-10 Week Delivery)     $48,800.
(2 additional hours per week for 12 weeks)

Option 3: Delivered Book Quantity:                                                                               TBD
(See pricing schedule)

Proceeds Help Support Educational Outreach, Engagement, Inspiration & Action Programs of the NPO's Planned Acts of Kindness & One Planet One People